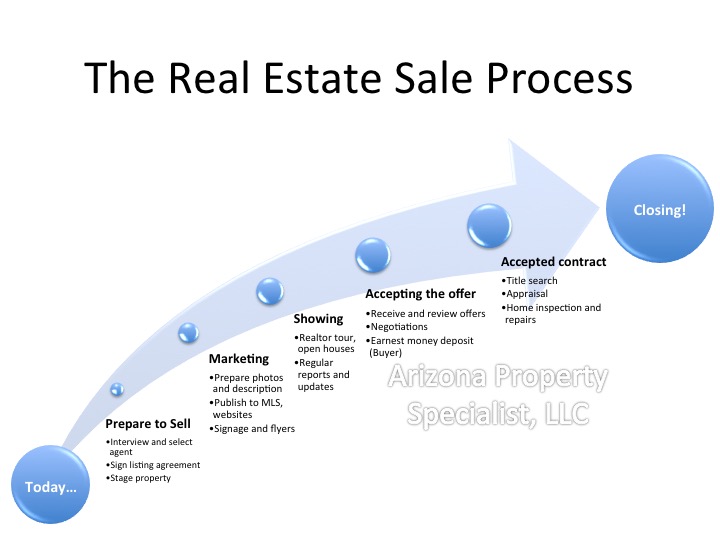 If you own property in Green Valley AZ, you know how appealing this area is to those who are retired or looking to be. Warm weather, low cost of living, plentiful active lifestyle options, and very reasonable property choices and prices are just some of the reasons that Green Valley has been consistently ranked as a recommended retirement destination for years.
We realize that many of you are experienced in the process of purchasing and selling real estate property, but for those who are not or if it has been several years since your last transaction, the  diagram above illustrates the sale process. There may be other steps required for your sale which are not shown here, as each transaction is unique and can depend on many factors in financing arrangements or property characteristics.
Potential buyers for Green Valley AZ properties are arriving in greater numbers as an estimated 50,000 people are retiring daily. They are looking for a wide variety of properties, whether an urban setting with all of the conveniences and amenities, a rural home on acreage with quiet and solitude, or something in between. If you are curious about the current estimated value of your property, contact us for a complimentary, no obligation evaluation.
If you are looking to capitalize on your current investment in real estate, you know that this is an excellent time to sell. Interest rates are at historical lows and increasing numbers of prospective buyers and renters are looking for a retirement destination. Properties in Green Valley are selling quickly and local inventory of properties for sale are lower than they have been in several years. And what if a buyer comes to us and wants to buy your property? Our Representing Both Sides page has all the details and describes how we manage those transactions.
Our goal is to discover exactly what you are looking for in real estate, put your property in front of qualified buyers, and then assist you through the sale. We are great communicators, but most importantly we are great listeners. We will explain the real estate sales process to your satisfaction because we believe that understanding this process is a key to our successful partnership and your satisfaction with your real estate sale.
[market_stats title="Sales to Original List Price Ratios" type="ratio" display="SaleToOriginalListPriceRatio" property_type="A" location="City=Green Valley&Green Valley"]