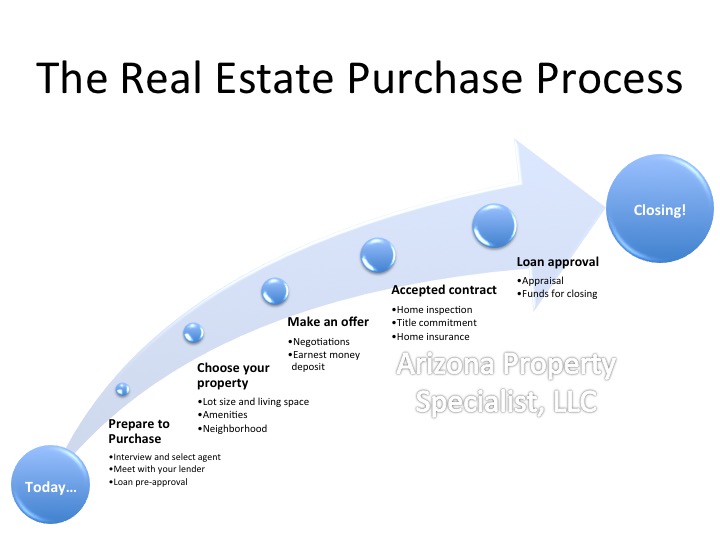 If you're researching property to purchase in Green Valley AZ, chances are you've done your research and decided that this community is the best fit for you. Warm weather, low cost of living, plentiful active lifestyle options, and very reasonable property choices and prices are just some of the reasons that Green Valley has been consistently ranked as a recommended retirement destination for years. We have found that the social opportunities here are exceptional and when relocating here, you'll find so many who share your interests and go out of their way to make you feel welcome. We have gathered links to some of our favorite attractions and activities on our Community page.
We realize that many of you are experienced in the process of purchasing and selling real estate property, but for those who are not or if it has been several years since your last transaction, the diagram above illustrates the sale process. There may be other steps required for your purchase which are not shown here, as each transaction is unique and can depend on many factors in financing arrangements or property characteristics.
Green Valley AZ is rich with real estate possibilities. You can choose an urban setting with all of the conveniences and amenities just outside your door, a rural home on acreage with quiet and solitude, or something in between.
If you are looking to invest in real estate, you know that this is an excellent time to buy. Interest rates are at historical lows and increasing numbers of prospective buyers and renters are looking for a retirement destination. And what if you find your home and it happens to be one of our listings? Our Representing Both Sides page has all the details and describes how we manage those transactions.
Our goal is to discover exactly what you are looking for in real estate, introduce you to the right properties, and then assist you through the purchase. We are great communicators, but most importantly we are great listeners. We will explain the real estate buying process to your satisfaction because we believe that understanding this process is key to our successful partnership and your satisfaction with your real estate purchase.
[market_stats title="Green Valley Active List Prices" type="price" display="ActiveAverageListPrice,NewAverageListPrice,ActiveMedianListPrice,NewMedianListPrice" property_type="A" location="City=Green Valley&Green Valley"]